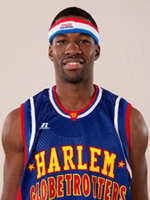 Position: F Date of Birth: 02/05/1986 Height: 6' 9" Weight: 225 lbs College: University of Buffalo '09 Hometown: Queens, New York

Biography: Slingshot Addison could be considered a late bloomer in basketball floor, but he has now ascended to the pinnacle with the Globetrotters. He did not play in high school, but his basketball talents helped Monroe Community College in Rochester, N.Y., to two regional championships, one during which Slingshot posted 35 points and 15 rebounds and hit a game-winning shot to advance MCC to the national tournament. He then went on to play two seasons at the University of Buffalo, and he is now in his first year with the Globetrotters.
A lover of dogs, Slingshot has five American pit bulls. As a native of Queens, he grew up a fan of the New York Yankees, New York Knicks and New York Giants. His favorite actors are Will Smith and Denzel Washington, and in his spare time, Slingshot enjoys reading and writing songs. &nbsp
Ad blocker interference detected!
Wikia is a free-to-use site that makes money from advertising. We have a modified experience for viewers using ad blockers

Wikia is not accessible if you've made further modifications. Remove the custom ad blocker rule(s) and the page will load as expected.