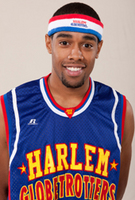 Position: G Date of Birth: 11/30/1986 Height: 6' 2" Weight: 165 lbs College: Ball State University (Ind.) '10 Hometown: Bronx, New York

Biography: Harlem Globetrotters rookie Cheese Chisholm says that budding NBA superstar Kevin Durant is the sports figure that has most influenced him, but maybe not for the reasons people might think. "He's living proof that skinny people can hoop with anyone," says Cheese with his signature smile.
Cheese has often been told that his smaller stature would prevent him from realizing his basketball dreams, but he has always enjoyed proving people wrong. He captained his high school basketball team and went on to become a two-year letter winner at Ball State University. Two of his proudest moments before becoming a Globetrotter were when he signed his letter of intent to play basketball at Ball State…and when he graduated with a degree in communications.
Some of Cheese's favorite things include buffalo wings, the music of Boyz II Men, the New York Knicks, vanilla ice cream and the classic book, "The Cat in the Hat."
Cheese's talents include graphic design and producing music, and he also feels he could hang with the best of them on "Dancing with the Stars."
Watch Cheese's fancy footwork when the Globetrotters perform in a city near you.
Ad blocker interference detected!
Wikia is a free-to-use site that makes money from advertising. We have a modified experience for viewers using ad blockers

Wikia is not accessible if you've made further modifications. Remove the custom ad blocker rule(s) and the page will load as expected.