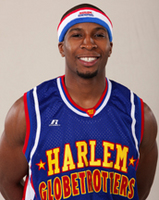 Position: F Date of Birth: 12/04/1984 Height: 6' 6" Weight: 200 lbs College: Stony Brook University (N.Y.) '07 Hometown: Central Islip, New York

Biography: Bam Bam Bamiro (buh-MEER-oh) started playing basketball because of his older brother, David. "He had so much fun playing, and people used to cheer for him a lot, so it inspired me to play," says Bam Bam.
Football was actually the first sport Bam Bam played; he was a quarterback and wide receiver. But it was basketball where he shined, earning team MVP and all-academic honors in high school. He then took his skills to Stony Brook University, where his coach, Steve Pikiell, encouraged him to put in the effort to become a professional basketball player. Bam Bam was also focused on his studies, earning a degree in applied math and statistics.
In his spare time, Bam Bam enjoys playing video games, watching movies and listening to R&B music. His sports allegiances follow his New York roots closely, as he is a fan of the Knicks, Giants and Yankees.
"Being a Globetrotter means being more than just being a basketball player," says Bam Bam. "Now I am a role model for young, aspiring athletes and kids. This is a blessing."
Ad blocker interference detected!
Wikia is a free-to-use site that makes money from advertising. We have a modified experience for viewers using ad blockers

Wikia is not accessible if you've made further modifications. Remove the custom ad blocker rule(s) and the page will load as expected.